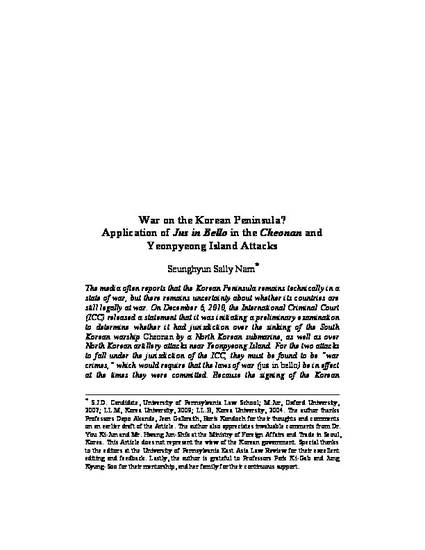 Article
War on the Korean Peninsula? Application of Jus In Bello in the Cheonan and Yeonpyeong Island Attacks
University of Pennsylvania East Asia Law Review (2013)
Abstract
The media often reports that the Korean Peninsula remains technically in a state of war, but there remains uncertainty about whether its countries are still legally at war. On December 6, 2010, the International Criminal Court (ICC) released a statement that it was initiating a preliminary examination to determine whether it had jurisdiction over the sinking of the South Korean warship Cheonan by a North Korean submarine, as well as over North Korean artillery attacks near Yeonpyeong Island. For the two attacks to fall under the jurisdiction of the ICC, they must be found to be "war crimes," which would require that the laws of war (jus in bello) be in effect at the times they were committed. Because the signing of the Korean Armistice Agreement in 1953 marked the conclusion of large-scale hostilities, questions have been raised as to whether the two attacks occurred in the context of a "war" or of an "armed conflict" under international law. This Article analyzes the concepts of war and of armed conflict, the general legal effects of armistice agreements, and the legal effects that a declaration of war might have in the context of the Korean Peninsula. If these two military confrontations in fact occurred during a war or an armed conflict, the ICC would have authority to punish the individuals responsible for committing any associated war crimes. However, if such a nexus is not proven, the ICC will lack clear authority to hold accountable the individuals responsible for these attacks.
Publication Date
Spring April 15, 2013
Citation Information
Seunghyun Nam. "War on the Korean Peninsula? Application of Jus In Bello in the Cheonan and Yeonpyeong Island Attacks"
University of Pennsylvania East Asia Law Review
Vol. 8 (2013)
Available at: http://works.bepress.com/seunghyun_nam/1/