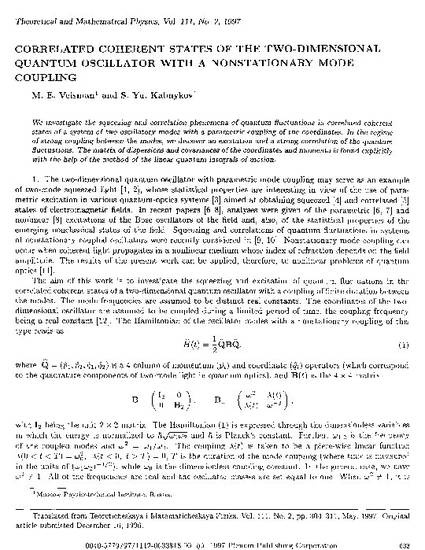 Article
Correlated and coherent states of the two-dimensional quantum oscillator with a nonstationary mode coupling
Theoretical and Mathematical Physics (1997)
Abstract
We investigate the squeezing and correlation phenomena of quantum fluctuations in correlated coherent states of a system of two oscillatory modes with a parametric coupling of the coordinates. In the regime of strong coupling between the modes, we discover an excitation and a strong correlation of the quantum fluctuations. The matrix of dispersions and covariances of the coordinates and momenta is found explicitly with the help of the method of the linear quantum integrals of motion.
Keywords
Multi-dimensional quantum systems,
quadratic Hamiltonian,
non-stationary mode coupling,
quantum integrals of motion,
squeezed state,
correlated state,
nonclassical photon statistics
Publication Date
Spring May, 1997
Citation Information
Mikhail E. Veisman and Serguei Y. Kalmykov. "Correlated and coherent states of the two-dimensional quantum oscillator with a nonstationary mode coupling"
Theoretical and Mathematical Physics
Vol. 111 (1997)
Available at: http://works.bepress.com/serguei_kalmykov/32/