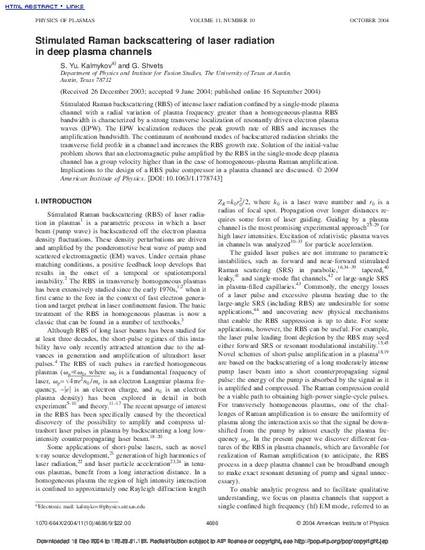 Article
Stimulated Raman backscattering of laser radiation in deep plasma channels
Physics of Plasmas (2004)
Abstract
Stimulated Raman backscattering (RBS) of intense laser radiation confined by a single-mode plasma channel with a radial variation of plasma frequency greater than a homogeneous-plasma RBS bandwidth is characterized by a strong transverse localization of resonantly driven electron plasma waves (EPW). The EPW localization reduces the peak growth rate of RBS and increases the amplification bandwidth. The continuum of nonbound modes of backscattered radiation shrinks the transverse field profile in a channel and increases the RBS growth rate. Solution of the initial-value problem shows that an electromagnetic pulse amplified by the RBS in the single-mode deep plasma channel has a group velocity higher than in the case of homogeneous-plasma Raman amplification. Implications to the design of a RBS pulse compressor in a plasma channel are discussed.
Keywords
Stimulated Raman scattering,
plasma channel,
mode coupling in nonuniform plasmas,
parametric processes in plasmas,
plasma wave localization in nonuniform plasmas
Publication Date
Fall October, 2004
Citation Information
Serguei Y. Kalmykov and Gennady Shvets. "Stimulated Raman backscattering of laser radiation in deep plasma channels"
Physics of Plasmas
Vol. 11 (2004)
Available at: http://works.bepress.com/serguei_kalmykov/19/