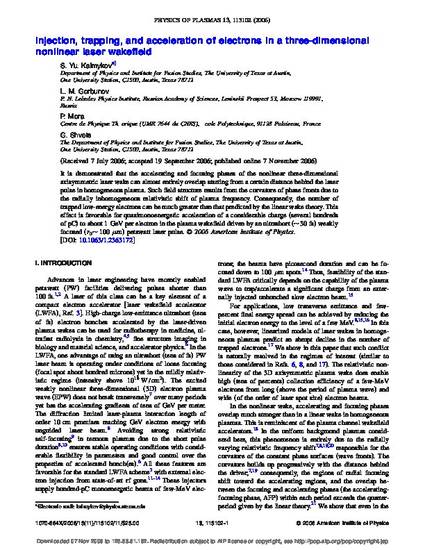 Article
Injection, trapping, and acceleration of electrons in a three-dimensional nonlinear laser wakefield
Physics of Plasmas (2006)
Abstract
It is demonstrated that the accelerating and focusing phases of the nonlinear three-dimensional axisymmetric laser wake can almost entirely overlap starting from a certain distance behind the laser pulse in homogeneous plasma. Such field structure results from the curvature of phase fronts due to the radially inhomogeneous relativistic shift of plasma frequency. Consequently, the number of trapped low-energy electrons can be much greater than that predicted by the linear wake theory. This effect is favorable for quasi-monoenergetic acceleration of a considerable charge (several hundreds of pC) to about 1 GeV per electron in the plasma wakefield driven by an ultrashort ( ~ 30 fs) weakly focused (r_0 ~ 100 microns) petawatt laser pulse.
Keywords
Laser wakefield acceleration,
petawatt lasers,
nonlinear plasma wake,
external injection,
"relativistic accordion" effect,
GeV electrons from laser plasmas,
ponderomotive scattering
Publication Date
Fall November, 2006
Citation Information
Serguei Y. Kalmykov, Leonid M. Gorbunov, Patrick Mora and Gennady Shvets. "Injection, trapping, and acceleration of electrons in a three-dimensional nonlinear laser wakefield"
Physics of Plasmas
Vol. 13 (2006)
Available at: http://works.bepress.com/serguei_kalmykov/16/