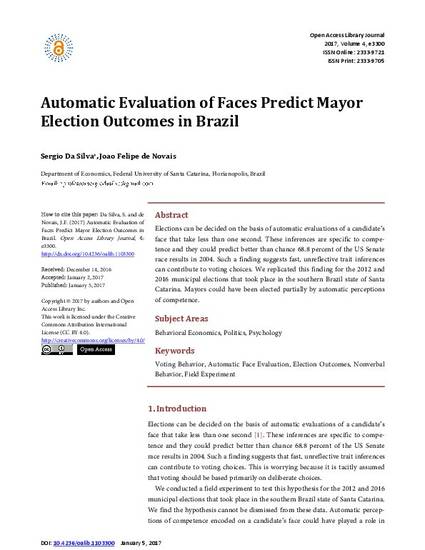 Article
Automatic Evaluation of Faces Predict Mayor Election Outcomes in Brazil
Open Access Library Journal (2017)
Abstract
Elections can be decided on the basis of automatic evaluations of a candidate's face that take less than one second. These inferences are specific to competence and they could predict better than chance 68.8 percent of the US Senate race results in 2004. Such a finding suggests fast, unreflective trait inferences can contribute to voting choices. We replicated this finding for the 2012 and 2016 municipal elections that took place in the southern Brazil state of Santa Catarina. Mayors could have been elected partially by automatic perceptions of competence.
DOI
10.4236/oalib.1103300
Citation Information
Sergio Da Silva and Joao Felipe De Novais. "Automatic Evaluation of Faces Predict Mayor Election Outcomes in Brazil"
Open Access Library Journal
Vol. 4 Iss. 1 (2017) p. 1 - 7 ISSN: 2333-9721
Available at: http://works.bepress.com/sergiodasilva/169/