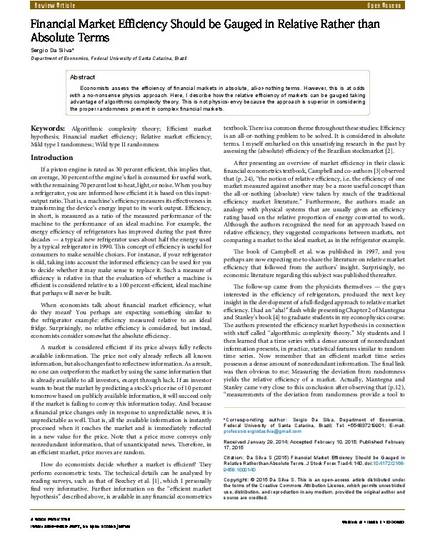 Article
Financial Market Efficiency Should be Gauged in Relative Rather than Absolute Terms
Journal of Stock & Forex Trading (2015)
Abstract
Economists assess the efficiency of financial markets in absolute, all-or-nothing terms. However, this is at odds with a no-nonsense physics approach. Here, I describe how the relative efficiency of markets can be gauged taking advantage of algorithmic complexity theory. This is not physics-envy because the approach is superior in considering the proper randomness present in complex financial markets.
Citation Information
Sergio Da Silva. "Financial Market Efficiency Should be Gauged in Relative Rather than Absolute Terms"
Journal of Stock & Forex Trading
Vol. 4 Iss. 1 (2015)
Available at: http://works.bepress.com/sergiodasilva/158/