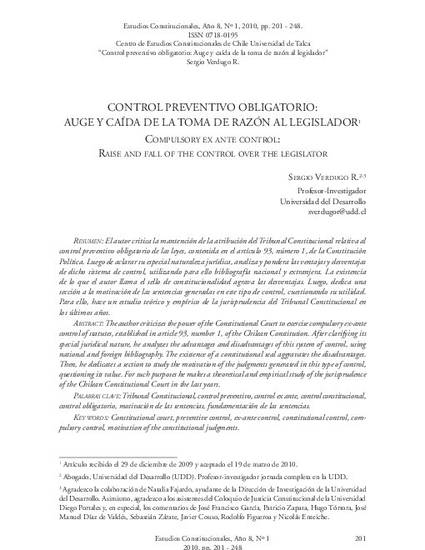 Article
Compulsory ex Ante Control: Rise and Fall of the Control Over the Legislator
Revista de Estudios Constitucionales (Universidad de Talca) (2010)
Abstract
The author criticizes the power of the Chilean Constitutional Court to exercise compulsory ex-ante control of statutes, established in article 93, number 1, of the Chilean Constitution. After clarifying its special juridical nature, he analyzes the advantages and disadvantages of this system of control, using national and foreign bibliography. The existence of a constitutional seal aggravates the disadvantages. Then, he dedicates a section to study the motivation of the judgments generated in this type of control, questioning its value. For such purposes he makes a theoretical and empirical study of the jurisprudence of the Chilean Constitutional Court in the last years.
Keywords
Constitutional court,
preventive control,
ex-ante control,
constitutional control,
compulsory control,
motivation of the constitutional judgments
Publication Date
July, 2010
Citation Information
Sergio Verdugo. "Compulsory ex Ante Control: Rise and Fall of the Control Over the Legislator"
Revista de Estudios Constitucionales (Universidad de Talca)
Vol. Año 8, N° 1 (2010)
Available at: http://works.bepress.com/sergio_verdugo/2/