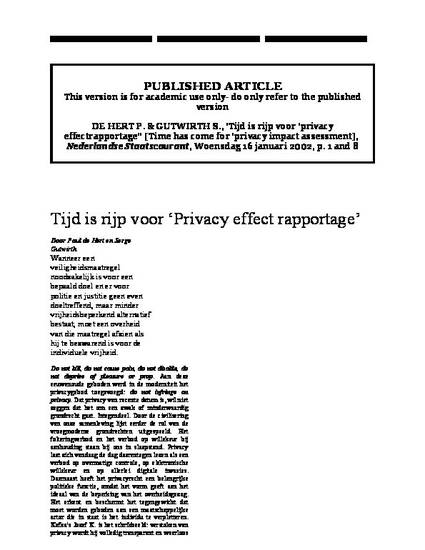 Popular Press
Tijd is rijp voor 'privacy effectrapportage'' [Time has come for 'privacy impact assessments']
Nederlandse Staatscourant (2002)
Abstract
In this short article of early 2002 we held a plea for a precautionary approach of privacy & technology issues and for early privacy impact assessments (PIA). We also used to the Kafka/Process picture in stead of the "big brother" one.
Publication Date
January 16, 2002
Citation Information
Paul De Hert and Serge Gutwirth. "Tijd is rijp voor 'privacy effectrapportage'' [Time has come for 'privacy impact assessments']"
Nederlandse Staatscourant
(2002)
Available at: http://works.bepress.com/serge_gutwirth/19/