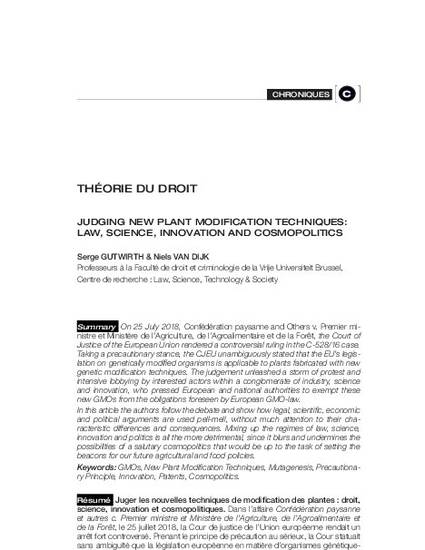 Article
Judging New Plant Modification Techniques: Law, Science, Innovation and Cosmopolitics
Revue Juridique de l'environnement (RJE) (2020)
Abstract
On 25 July 2018, Confédération paysanne and Others v. Premier ministre et Ministère de l'Agriculture, de l'Agroalimentaire et de la Forêt, the Court of Justice of the European Union rendered a controversial ruling in the C-528/16 case. Taking a precautionary stance, the CJEU unambiguously stated that the EU's legislation on genetically modified organisms is applicable to plants fabricated with new genetic modification techniques. The judgement unleashed a storm of protest and intensive lobbying by interested actors within a conglomerate of industry, science and innovation, who pressed European and national authorities to exempt these new GMOs from the obligations foreseen by European GMO-law.
In this article the authors follow the debate and show how legal, scientific, economic and political arguments are used pell-mell, without much attention to their characteristic differences and consequences. Mixing up the regimes of law, science, innovation and politics is all the more detrimental, since it blurs and undermines the possibilities of a salutary cosmopolitics that would be up to the task of setting the beacons for our future agricultural and food policies
Keywords
GMOs,
New Plant Modification Techniques,
Mutagenesis,
Precautionary Principle,
Innovation,
Patents,
Cosmopolitics
Publication Date
March, 2020
Citation Information
Serge Gutwirth and Niels Van Dijk. "Judging New Plant Modification Techniques: Law, Science, Innovation and Cosmopolitics"
Revue Juridique de l'environnement (RJE)
Vol. 2020 Iss. 1 (2020) p. 123 - 145
Available at: http://works.bepress.com/serge_gutwirth/136/