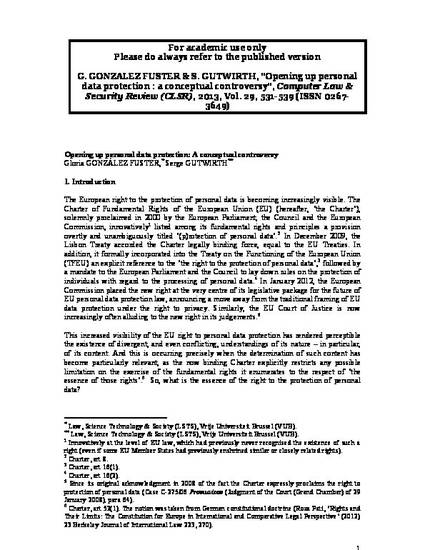 Article
Opening up personal data protection : a conceptual controversy
Computer Law &Security Review (CLSR) (2013)
Abstract
The existence of a fundamental right to the protection of personal data in European Union (EU) law is nowadays undisputed. Established in the EU Charter of Fundamental Rights in 2000, it is increasingly permeating EU secondary law, and is expected to play a key role in the future EU personal data protection landscape. The right's reinforced visibility has rendered manifest the co-existence of two possible and contrasting interpretations as to what it come to mean. If some envision it as a primarily permissive right, enabling the processing of such data under certain conditions, others picture it as having a prohibitive nature, implying that any processing of data is a limitation of the right, be it legitimate or illegitimate. This paper investigates existing tensions between different understandings of the right to the protection of personal data, and explores the assumptions and conceptual legacies underlying both approaches. It traces their historical lineages, and, focusing on the right to personal data protection as established by the EU Charter, analyses the different arguments that can ground contrasted readings of its Article 8. It also reviews the conceptualisations of personal data protection as present in the literature, and finally contrasts all these perspectives with the construal of the right by the EU Court of Justice.
Citation Information
Gloria Gonzalez Fuster and Serge Gutwirth. "Opening up personal data protection : a conceptual controversy"
Computer Law &Security Review (CLSR)
Vol. 29 (2013)
Available at: http://works.bepress.com/serge_gutwirth/106/