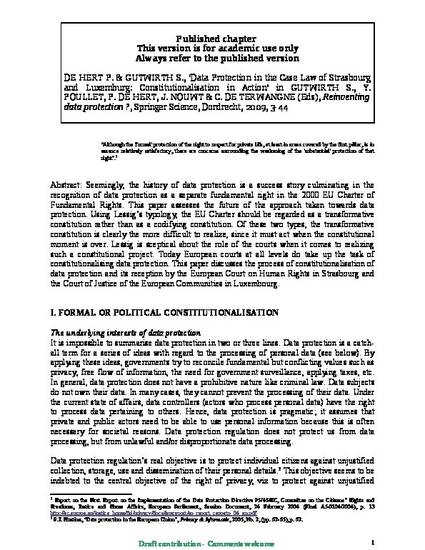 Contribution to Book
Data protection in the case law of Strasbourg and Luxemburg : constitutionalisation in action
Reinventing Data Protection ? (2009)
Abstract
Seemingly, the history of data protection is a success story culminating in the recognition of data protection as a separate fundamental right in the 2000 EU Charter of Fundamental Rights. This paper assesses the future of the approach taken towards data protection. Using Lessig's typology, the EU Charter should be regarded as a transformative constitution rather than as a codifying constitution. Of these two types, the transformative constitution is clearly the more difficult to realize, since it must act when the constitutional moment is over. Lessig is sceptical about the role of the courts when it comes to realizing such a constitutional project. Today European courts at all levels do take up the task of constitutionalising data protection. This paper discusses the process of constitutionalisation of data protection and its reception by the European Court on Human Rights in Strasbourg and the Court of Justice of the European Communities in Luxembourg.
Keywords
Privacy,
data protection,
constitutionalisation
Editor
GUTWIRTH S., Y. POULLET, P. DE HERT, J. NOUWT & C. DE TERWANGNE (eds)
Citation Information
Paul De Hert and Serge Gutwirth. "Data protection in the case law of Strasbourg and Luxemburg : constitutionalisation in action"
Reinventing Data Protection ?
(2009)
Available at: http://works.bepress.com/serge_gutwirth/10/