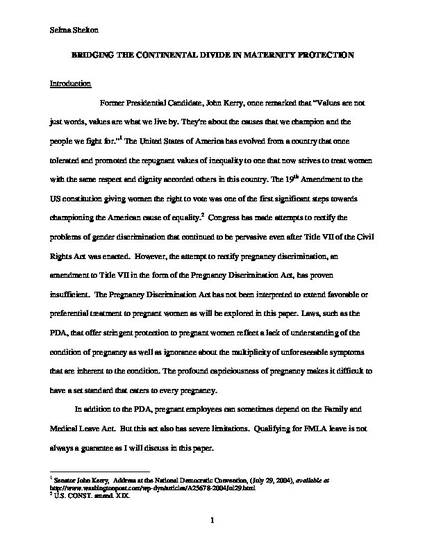 Unpublished Paper
BRIDGING THE CONTINENTAL DIVIDE IN MATERNITY PROTECTION
ExpressO (2007)
Abstract
This paper argues that the inconsistency in application of the PDA coupled with the limitations of the FMLA reflect that the United States has insufficient protection for pregnant employees. The limited legal mandates protecting pregnant women in the United States are easily contrasted with the generous comprehensive protections afforded to pregnant employees in Ireland. However, without being oblivious to the striking demographical, geographical, cultural, social, political, and religious differences between the United States and Ireland, this paper compares the provisions of the two countries with regard to pregnancy and suggests that Ireland's provisions are attainable goals in the United States despite the differences between the two countries. Though these two countries are different, both value pregnant employees in the workforce. Ireland has vigorously made legislative updates to its statutory instruments – constantly increasing the magnitude of its protections. The United States has updated its existing legislation and enacted new legislation, but without achieving the desired results needed. Part one of this paper discusses the pre-birth accommodations and the maternity leave issues that occur in the United States by analyzing the applicable statutes and the case law interpreting them. Part two of this paper explores Irish statutes and cases and delves into Ireland's degree of protection. Part three of this paper recommends ways in which the United States can increase its protection for pregnant employees. One of these recommendations is based on the idea of adopting some of Ireland's provisions. This part of the paper briefly discusses Ireland's social insurance scheme and discusses the impracticability of implementing a similar scheme in the United States. Finally, this paper concludes that by borrowing some facets of Ireland's pregnancy provisions, the United States can more strongly reflect its value for pregnant employees in the workforce.
Publication Date
November 28, 2007
Citation Information
Selma Shelton. "BRIDGING THE CONTINENTAL DIVIDE IN MATERNITY PROTECTION"
ExpressO
(2007)
Available at: http://works.bepress.com/selma_shelton/2/