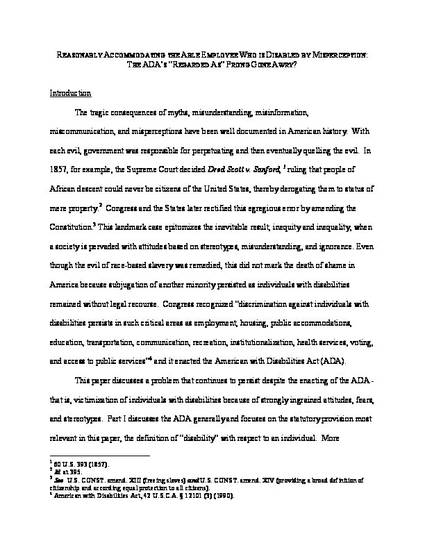 Unpublished Paper
REASONABLY ACCOMMODATING THE ABLE EMPLOYEE WHO IS DISABLED BY MISPERCEPTION: THE ADA'S "REGARDED AS" PRONG GONE AWRY?
ExpressO (2007)
Abstract
Even though the evil of race-based slavery was remedied, this did not mark the death of shame in America because subjugation of another minority persisted as individuals with disabilities remained without legal recourse. Congress recognized "discrimination against individuals with disabilities persists in such critical areas as employment, housing, public accommodations, education, transportation, communication, recreation, institutionalization, health services, voting, and access to public services" and it enacted the American with Disabilities Act (ADA). This paper discusses a problem that continues to persist despite the enacting of the ADA - that is, victimization of individuals with disabilities because of strongly ingrained attitudes, fears, and stereotypes. Part I discusses the ADA generally and focuses on the statutory provision most relevant in this paper, the definition of "disability" with respect to an individual. More specifically, this paper explores the "regarded as" prong of the definition and explains the three rationales an individual may use to qualify as "disabled" to bring suit under the "regarded as" prong. Part II discusses the semantics of "reasonable accommodation." This section explores reasonable accommodations for persons who are perceived as disabled, analyzing the inquiry principally through the lens of the circuits that have ruled on the issue. Finally, Part III discusses the disability of misperception and whether it results in discrimination adequate to justify reasonable accommodations. Further, this section explores and discusses whether the inquiry about accommodation should change depending on the rationale the plaintiff puts forth for his/her qualification for coverage under the "regarded as" prong of the Act. Ultimately, this paper argues and concludes that individuals who are erroneously believed to be disabled should be accommodated commensurate with the nature and extent of the employer's belief and the actual state of the person's impairment or non-impairment. To effectuate such a course, this paper recommends that Congress amend the ADA to provide an appropriate remedial scheme for individuals who are regarded as disabled and who suffer in their employment conditions as a result of their employers' misperceptions.
Keywords
disability,
regarded as,
reasonable accommodations
Publication Date
June, 2007
Citation Information
Selma Shelton. "REASONABLY ACCOMMODATING THE ABLE EMPLOYEE WHO IS DISABLED BY MISPERCEPTION: THE ADA'S "REGARDED AS" PRONG GONE AWRY?"
ExpressO
(2007)
Available at: http://works.bepress.com/selma_shelton/1/