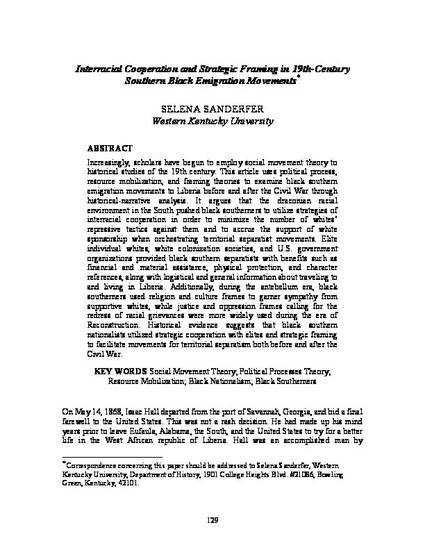 Article
Interracial Cooperation and Strategic Framing in 19th-Century Southern Black Emigration Movements
Journal of the Indiana Academy of the Social Sciences
Abstract
Increasingly, scholars have begun to employ social movement theory to historical studies of the 19th century. This article uses political process, resource mobilization, and framing theories to examine black southern emigration movements to Liberia before and after the Civil War through historical-narrative analysis. It argues that the draconian racial environment in the South pushed black southerners to utilize strategies of interracial cooperation in order to minimize the number of whites' repressive tactics against them and to accrue the support of white sponsorship when orchestrating territorial separatist movements. Elite individual whites, white colonization societies, and U.S. government organizations provided black southern separatists with benefits such as financial and material assistance, physical protection, and character references, along with logistical and general information about traveling to and living in Liberia. Additionally, during the antebellum era, black southerners used religion and culture frames to garner sympathy from supportive whites, while justice and oppression frames calling for the redress of racial grievances were more widely used during the era of Reconstruction. Historical evidence suggests that black southern nationalists utilized strategic cooperation with elites and strategic framing to facilitate movements for territorial separatism both before and after the Civil War.
Citation Information
Selena Sanderfer. "Interracial Cooperation and Strategic Framing in 19th-Century Southern Black Emigration Movements"
Available at: http://works.bepress.com/selena-sanderfer/2/