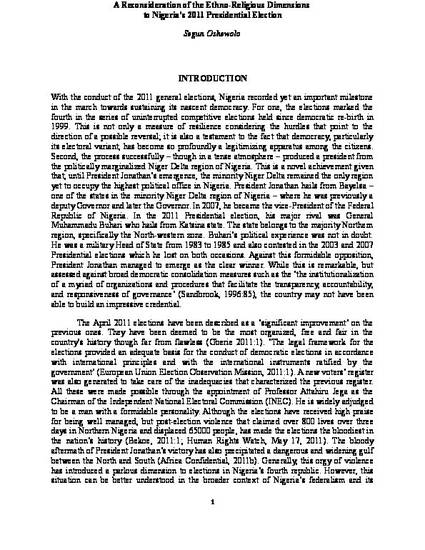 Unpublished Paper
A Reconsideration of the Ethno-Religious Dimensions to Nigeria's 2011 Presidential Election
Open Access (2013)
Abstract
Although the 2011 Presidential election has been adjudged to be critical to the political health of Nigeria after three flawed elections, the ethno-religious traps that defined the election and the barrage of other issues that follow have plunged the country into a deep crisis. These issues include the electoral violence in the north that immediately followed the announcement of results, the amplification of the Boko Haram insurgency, inflammatory statements by key political players that could further fan the embers of violence, and the division within the ruling PDP masterminded by dissatisfied northern power elite which has culminated in the decampment of some to the opposition. The paper argues that the desire of the northern establishment to regain power after the death of Yar'Adua and the unwillingness of the south to yield power precipitated the crisis. To address these issues and prevent further polarization of politics towards ethno-religious primordial identities, the article recommends that Nigeria's federal democracy be deepened, the political class must prioritize the security and cohesion of the federation rather than engaging in elite manipulation of the masses to serve parochial interests, the noticeable flaws in election administration be addressed to enhance the integrity of the electoral process and the capacity of the security agencies to address security challenges, including electoral violence, must be enhanced.
Keywords
Ethnicity; Religion; Election; Electoral Violence; Nigeria
Publication Date
Winter 2013
Citation Information
Segun Oshewolo. "A Reconsideration of the Ethno-Religious Dimensions to Nigeria's 2011 Presidential Election"
Open Access
(2013)
Available at: http://works.bepress.com/segun_oshewolo/31/