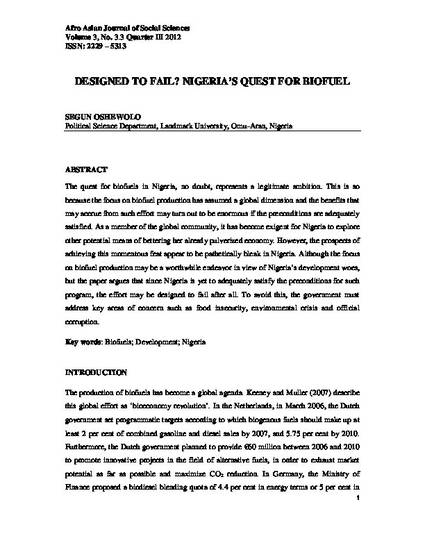 Article
Designed to Fail? Nigeria's Quest for Biofuel
Afro Asian Journal of Social Sciences (2012)
Abstract
The quest for biofuels in Nigeria, no doubt, represents a legitimate ambition. This is so because the focus on biofuel production has assumed a global dimension and the benefits that may accrue from such effort may turn out to be enormous if the preconditions are adequately satisfied. As a member of the global community, it has become exigent for Nigeria to explore other potential means of bettering her already pulverized economy. However, the prospects of achieving this momentous feat appear to be pathetically bleak in Nigeria. Although the focus on biofuel production may be a worthwhile endeavor in view of Nigeria's development woes, but the paper argues that since Nigeria is yet to adequately satisfy the preconditions for such program, the effort may be designed to fail after all. To avoid this, the government must address key areas of concern such as food insecurity, environmental crisis and official corruption.
Keywords
Biofuel; Development; Nigeria
Citation Information
Segun Oshewolo. "Designed to Fail? Nigeria's Quest for Biofuel"
Afro Asian Journal of Social Sciences
Vol. 3 Iss. 3.3 (2012)
Available at: http://works.bepress.com/segun_oshewolo/27/