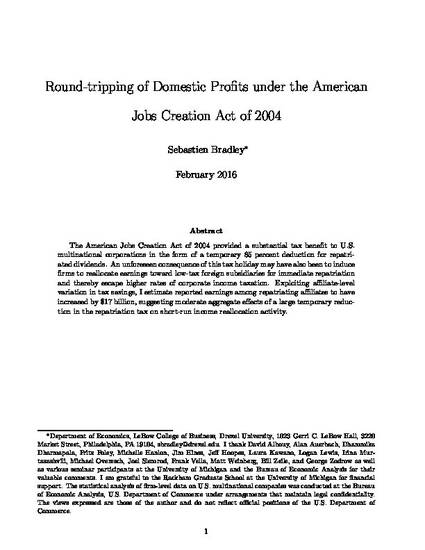 Unpublished Paper
Round-tripping of Domestic Profits under the American Jobs Creation Act of 2004
- (2016)
Abstract
The American Jobs Creation Act of 2004 provided a substantial tax benefit to U.S. multinational corporations in the form of a temporary 85 percent deduction for repatriated dividends. An unforeseen consequence of this tax holiday may have also been to induce firms to reallocate earnings toward low-tax foreign subsidiaries for immediate repatriation and thereby escape higher rates of corporate income taxation. I estimate this unconventional form of round-tripping to have increased reported earnings among repatriating affiliates by $17 billion, suggesting moderate aggregate effects of a large temporary reduction in the repatriation tax on short-run income reallocation activity. Results involving measures related to transfer pricing or earnings stripping are inconclusive with respect to the mechanisms employed to effect changes in reported earnings in the aggregate, but stronger transfer pricing responses are nevertheless observed among particular subsets of firms classified according to the liquidity of their foreign assets and the magnitude of their permanently reinvested earnings. Viewed as an experiment with near-complete exemption of foreign-source income, these results provide preliminary guidance for considering the transitional tax avoidance consequences of implementing a territorial tax system in the U.S.
Publication Date
February, 2016
Citation Information
Sebastien J Bradley. "Round-tripping of Domestic Profits under the American Jobs Creation Act of 2004"
-
(2016)
Available at: http://works.bepress.com/sebastien_bradley/4/