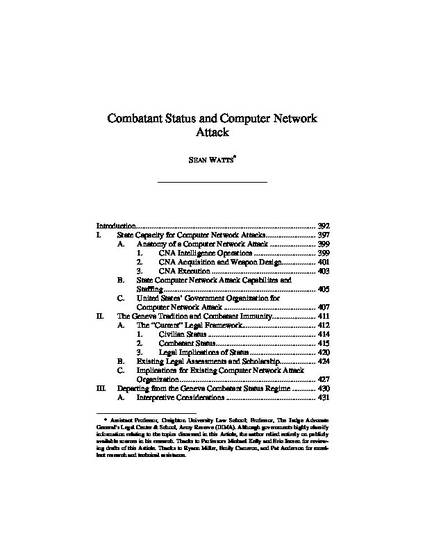 Article
Combatant Status and Computer Network Attacks
Virginia Journal of International Law (2010)
Abstract
The national security implications of computer network attacks (CNA) have become far-reaching and have prompted major adjustments to our nation's governmental structure and defense strategy. One of the current President's early executive acts created a national Cyberczar to coordinate U.S. defenses against CNA. Meanwhile, the Department of Defense has recognized cyberspace as a realm of combat operations equivalent in importance to land, sea and space, creating a new Cyber Command believed to be capable of launching offensive CNA. This Article examines the critical question of combatant status in such CNA – specifically, who, under the existing law of war, may lawfully participate in CNA? Existing accounts evaluate combatant status in CNA under traditional criteria applicable to kinetic and line-of-sight warfare. This Article argues such approaches are outmoded and induce states to engage in practices that amount to no more than empty formalism. With historical, textual, and normative analysis, this Article argues that state sanction or imprimatur is an appropriate standard for evaluating combatant status in CNA. The analytical framework proposed not only aligns with existing law and emerging state practice, but may also resolve the question of status in other remote combat engagements.
Keywords
Law of War,
International Humanitarian Law,
Computer Network Attack,
Cyberwar,
Combatant Status
Publication Date
Winter February, 2010
Citation Information
Sean Watts. "Combatant Status and Computer Network Attacks"
Virginia Journal of International Law
Vol. 50 Iss. 2 (2010)
Available at: http://works.bepress.com/sean_watts/2/