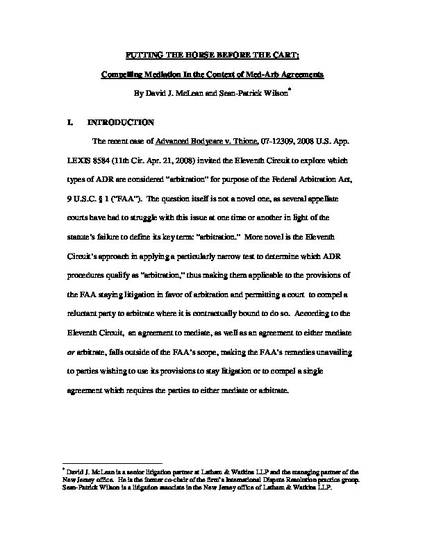 Article
Compelling Mediation in the Context of Med-Arb Agreements
American Arbitration Association Dispute Resolution Journal (2008)
Abstract
The recent case of Advanced Bodycare v. Thione, 07-12309, 2008 U.S. App. LEXIS 8584 (11th Cir. Apr. 21, 2008) invited the Eleventh Circuit to explore which types of ADR are considered "arbitration" for purpose of the Federal Arbitration Act, 9 U.S.C. § 1 ("FAA"). According to the Eleventh Circuit, an agreement to mediate, as well as an agreement to either mediate or arbitrate, falls outside of the FAA's scope, making the FAA's remedies unavailing to parties wishing to use its provisions to stay litigation or to compel a single agreement which requires the parties to either mediate or arbitrate. The logical extension of the Thione decision portends troubling developments for broad-based ADR, particularly the growing use of two-step ADR mechanisms which combine mediation and arbitration in sequence (a procedure often referred to as "Med-Arb"). The purposes of this article are three-fold. This article endeavors to (i) survey the landscape of current arbitration law; (ii) assess how that landscape may be altered by the Eleventh Circuit's decision in Thione; and (iii) apply the teachings of Thione to the growing practice of Med-Arb. Ultimately, this article concludes that although in the context of a mediation agreement generally the FAA may be inapplicable, in the context of Med-Arb agreements where the final stage, if needed, is binding arbitration, the FAA's remedies should remain available to parties throughout the process, including during mediation.
Keywords
alternative dispute resolution,
adr,
arbitration,
med-arb,
mediation,
negotiation,
commercial law,
jurisprudence
Publication Date
Fall 2008
Citation Information
Sean-Patrick Wilson and David J. McLean. "Compelling Mediation in the Context of Med-Arb Agreements"
American Arbitration Association Dispute Resolution Journal
Vol. (August-October 2008) (2008)
Available at: http://works.bepress.com/sean_patrick_wilson/1/