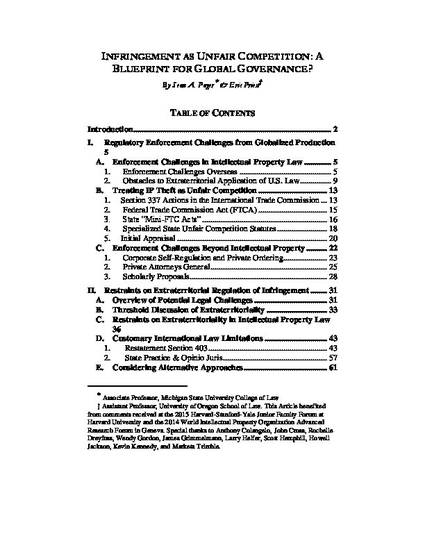 Unpublished Paper
Infringement as Unfair Competition: A Blueprint for Global Governance?
ExpressO (2015)
Abstract
INFRINGEMENT AS UNFAIR COMPETITION: A BLUEPRINT FOR GLOBAL GOVERNANCE?
Sean A. Pager Michigan State University College of Law
Eric Priest University of Oregon School of Law
ABSTRACT
This Article examines a new approach to address persistent regulatory failures in global supply chains. In a series of recent cases, unfair competition actions have been brought in U.S. court against foreign manufacturers who infringe software overseas under the theory that the cost savings from infringement confers an unfair advantage in U.S. markets. While this theory has been advanced in the intellectual property context, the same approach could work to target abuses in many other domains including human rights, labor law, and environmental protection. Unfair competition law could therefore supply a powerful new tool to vindicate global regulatory norms and bring a measure of justice to those powerless to enforce rights in their home countries.
The unfair competition approach offers significant advantages. It creates jurisdiction in U.S. courts, enlisting a class of willing and well-resourced plaintiffs: commercial competitors. It also provides enforcement with real teeth: perpetrators risk being frozen out of lucrative U.S. markets. At the same time, extra-territorial use of unfair competition law raises serious concerns. Allowed to operate in unfettered fashion, it could lend itself to abuses ranging from protectionism to unilateralist bullying, provoke imitation and retaliation by other countries, and spark a global unfair competition "arms race" that leads to an anarchic free-for-all. To avert such dangers, we propose a comprehensive jurisprudential framework to keep the unfair competition genie safely harnessed toward productive ends.
However, even narrowly tailored unfair competition lawsuits are not a panacea. To be effective as an instrument of global governance arguably requires an integrated norm shifting strategy that marries selective targeting of industries with extralegal outreach and long-term monitoring. The aim is to turn defendants into compliance stakeholders who will adopt the mantle of enforcement themselves. In particular, imposing secondary liability on multinational corporations would hold them accountable for misconduct in their supply chains. In this way, the web of supplier contracts on which modern globalized production relies can be harnessed as vehicles to propagate global regulatory norms, which, over time, will gradually become internalized by industry actors. Such a virtuous dynamic could have profound implications for global governance and the rule of law.
Keywords
infringement,
intellectual property,
copyright,
unfair competition,
extraterritoriality,
global governance,
international law,
customary international law
Publication Date
August 30, 2015
Citation Information
Sean Pager and Eric Priest. "Infringement as Unfair Competition: A Blueprint for Global Governance?"
ExpressO
(2015)
Available at: http://works.bepress.com/sean_pager/7/