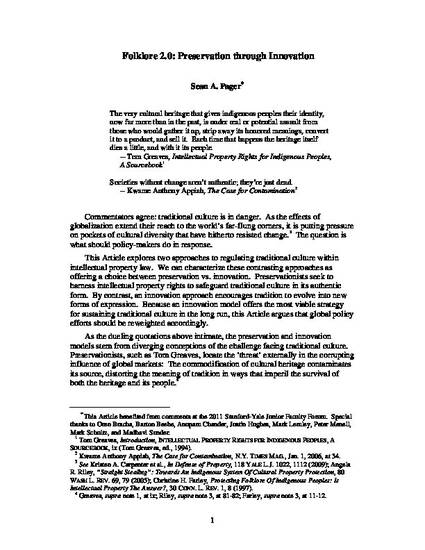 Unpublished Paper
Folklore 2.0: Preservation through Innovation
ExpressO (2012)
Abstract
This Article explores two approaches to regulating traditional culture within intellectual property law. We can characterize these contrasting approaches as a choice between preservation vs. innovation. The preservation model seeks to harness intellectual property rights to preserve traditional culture in its authentic form. The innovation model encourages tradition to be adapted to serve contemporary needs.
This Article argues that innovation offers the most viable strategy to sustain traditional culture. Traditional culture will only endure to the extent that it retains meaning and value to its source communities. This requires the freedom to creatively reinvent tradition to keep it relevant. A system of intangible property rights focused on preservation risks calcifying traditional expression in "authentic" forms that preclude experimentation. By contrast, copyright law is designed to facilitate the dynamic development of culture. Global policy efforts should be reweighted accordingly toward copyright.
To develop this argument, the article presents the Nigerian film industry—Nollywood—as a case study. Nollywood has emerged as a major creative force that ranks among the top three film industries in the world. The appeal of Nollywood films derives in significant part from their portrayal of traditional culture. By adapting and remixing folkloric elements, Nollywood films repurpose tradition to serve new narrative contexts and infuse it with fresh meaning and relevance.
Yet, while such semiotic renewal—Folklore 2.0—represents a healthy, even praiseworthy phenomenon, it runs contrary to Folklore 1.0 conceptions of intangible heritage as a cherished legacy whose authenticity must not be compromised. Enforcing intangible heritage rights could therefore limit socially valuable innovation and deter much-needed investment in creative industries. By contrast, by adapting copyright law to better serve the needs of developing countries, we would encourage the emerging creative industries of the Global South and help to realize the bright promise they hold.
Keywords
cultural protection,
intangible heritage,
folklore,
traditional culture,
cultural heritage,
copyright,
film
Publication Date
February 12, 2012
Citation Information
Sean Pager. "Folklore 2.0: Preservation through Innovation"
ExpressO
(2012)
Available at: http://works.bepress.com/sean_pager/4/