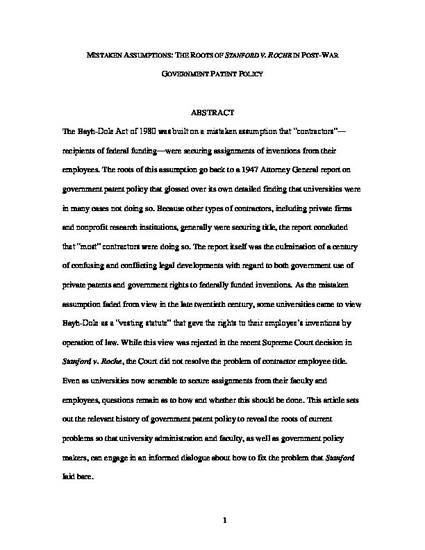 Unpublished Paper
Mistaken Assumptions: The Roots of Stanford v. Roche in Post-War Government Patent Policy
ExpressO (2012)
Abstract
The Bayh-Dole Act of 1980 was built on a mistaken assumption that "contractors"—recipients of federal funding—were securing assignments of inventions from their employees. The roots of this assumption go back to a 1947 Attorney General report on government patent policy that glossed over its own detailed finding that universities were in many cases not doing so. Because other types of contractors, including private firms and nonprofit research institutions, generally were securing title, the report concluded that "most" contractors were doing so. The report itself was the culmination of a century of confusing and conflicting legal developments with regard to both government use of private patents and government rights to federally funded inventions. As the mistaken assumption faded from view in the late twentieth century, some universities came to view Bayh-Dole as a "vesting statute" that gave the rights to their employee's inventions by operation of law. While this view was rejected in the recent Supreme Court decision in Stanford v. Roche, the Court did not resolve the problem of contractor employee title. Even as universities now scramble to secure assignments from their faculty and employees, questions remain as to how and whether this should be done. This article sets out the relevant history of government patent policy to reveal the roots of current problems so that university administration and faculty, as well as government policy makers, can engage in an informed dialogue about how to fix the problem that Stanford laid bare.
Keywords
intellectual property,
Bayh-Dole Act,
technology transfer,
government contracts,
Stanford v. Roche,
government patent policy,
employee inventors,
universities,
research commercialization
Publication Date
March 15, 2012
Citation Information
Sean M. O'Connor. "Mistaken Assumptions: The Roots of Stanford v. Roche in Post-War Government Patent Policy"
ExpressO
(2012)
Available at: http://works.bepress.com/sean_oconnor/2/