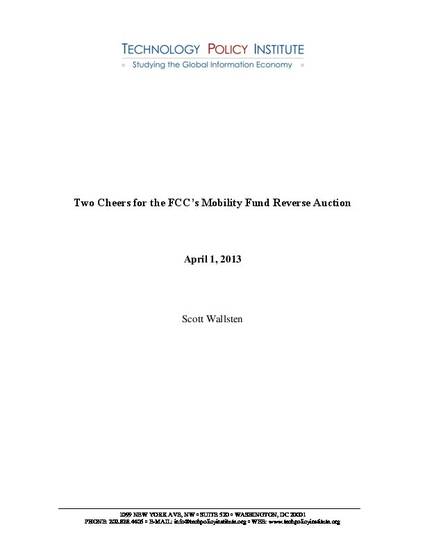 Article
Two Cheers for the FCC's Mobility Fund Reverse Auction
Journal on Telecommunications and High Technology Law (2013)
Abstract
The United States held its first competitive bidding, or "reverse auction," for universal service subsidies in September 2012. While it is far too early to investigate whether this national auction generated improvements in mobile voice and broadband service in underserved areas, it is not too soon to evaluate the auction itself. This paper investigates the outcome of the Mobility Fund Phase 1 Auction (Auction 901) and considers what we could learn from it for universal service and for future planned reverse auctions, such as the upcoming incentive auction, which aims to reallocate spectrum from broadcasters to those who place a higher value on it, and the much larger Mobility Fund Phase 2 Auction.
The analysis, based on data from all auction participants, suggests that this one-time expenditure should be considered a qualified success. Perhaps most importantly, it demonstrated that the FCC can run an effective reverse auction and demonstrated that allocating subsidies based on cost-effectiveness measures has the potential to dramatically increase the bang for the buck we get from universal service expenditures. However, with very few regions receiving multiple bids the auction highlighted the difficulty in generating participation. Additionally, the pay-as-bid feature of the auction may create problems for upcoming auctions because it can create incentives for participants to bid strategically. The FCC should consider employing other auction mechanisms more likely to induce firms to reveal their true estimates of the subsidies necessary to provide service.
Keywords
auctions,
universal service,
wireless,
telecommunications
Citation Information
Scott J. Wallsten. "Two Cheers for the FCC's Mobility Fund Reverse Auction"
Journal on Telecommunications and High Technology Law
Vol. 11 (2013)
Available at: http://works.bepress.com/scott_wallsten/80/