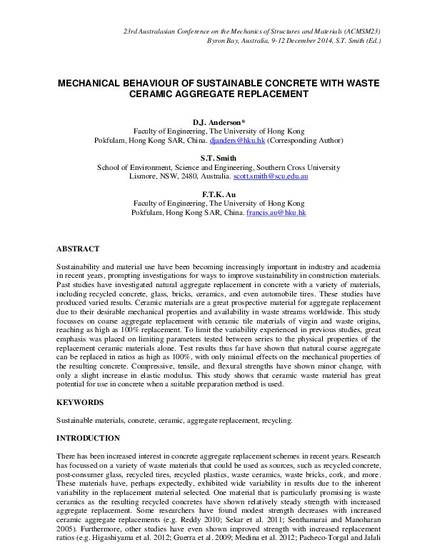 Other
Mechanical behaviour of sustainable concrete with waste ceramic aggregate replacement
23rd Australasian Conference on the Mechanics of Structures and Materials (ACMSM23)
Document Type
Recycled materials paper
Publication Date
1-1-2014
Peer Reviewed
Peer-Reviewed
Abstract
Sustainability and material use have been becoming increasingly important in industry and academia in recent years, prompting investigations for ways to improve sustainability in construction materials. Past studies have investigated natural aggregate replacement in concrete with a variety of materials, including recycled concrete, glass, bricks, ceramics, and even automobile tires. These studies have produced varied results. Ceramic materials are a great prospective material for aggregate replacement due to their desirable mechanical properties and availability in waste streams worldwide. This study focusses on coarse aggregate replacement with ceramic tile materials of virgin and waste origins, reaching as high as 100% replacement. To limit the variability experienced in previous studies, great emphasis was placed on limiting parameters tested between series to the physical properties of the replacement ceramic materials alone. Test results thus far have shown that natural coarse aggregate can be replaced in ratios as high as 100%, with only minimal effects on the mechanical properties of the resulting concrete. Compressive, tensile, and flexural strengths have shown minor change, with only a slight increase in elastic modulus. This study shows that ceramic waste material has great potential for use in concrete when a suitable preparation method is used.
Citation Information
Anderson, DJ, Smith, ST & Au, FTK 2014, 'Mechanical behaviour of sustainable concrete with waste ceramic aggregate replacement', in ST Smith (ed.), 23rd Australasian Conference on the Mechanics of Structures and Materials (ACMSM23), vol. I, Byron Bay, NSW, 9-12 December, Southern Cross University, Lismore, NSW, pp. 243-248. ISBN: 9780994152008.