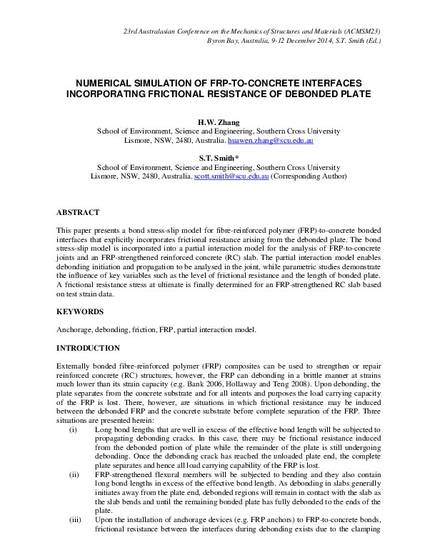 Other
Numerical simulation of FRP-to-concrete interfaces incorporating frictional resistance of debonded plate
23rd Australasian Conference on the Mechanics of Structures and Materials (ACMSM23)
Document Type
FRP-strengthened and all-FRP structures paper
Publication Date
1-1-2014
Peer Reviewed
Peer-Reviewed
Abstract
This paper presents a bond stress-slip model for fibre-reinforced polymer (FRP)-to-concrete bonded interfaces that explicitly incorporates frictional resistance arising from the debonded plate. The bond stress-slip model is incorporated into a partial interaction model for the analysis of FRP-to-concrete joints and an FRP-strengthened reinforced concrete (RC) slab. The partial interaction model enables debonding initiation and propagation to be analysed in the joint, while parametric studies demonstrate the influence of key variables such as the level of frictional resistance and the length of bonded plate. A frictional resistance stress at ultimate is finally determined for an FRP-strengthened RC slab based on test strain data.
Citation Information
Zhang, HW & Smith, ST 2014, 'Numerical simulation of FRP-to-concrete interfaces incorporating frictional resistance of debonded plate', in ST Smith (ed.), 23rd Australasian Conference on the Mechanics of Structures and Materials (ACMSM23), vol. I, Byron Bay, NSW, 9-12 December, Southern Cross University, Lismore, NSW, pp. 397-402. ISBN: 9780994152008.