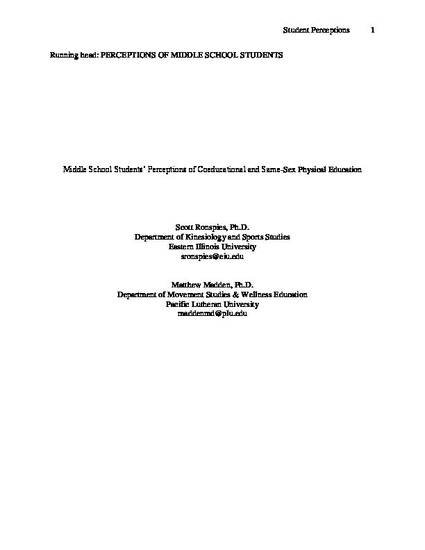 Article
Middle School Students' Perceptions of Coeducational and Same-Sex Physical Education
Illinois Journal for Health, Physical Education, Recreation, and Dance (2011)
Abstract
The prevalence of obesity and sedentary behaviors among children and adolescents is increasing at an alarming rate. The obesity epidemic is reaching proportions never seen across our nation. Therefore, the purpose of this study was to examine middle school students' perceptions of coeducational and same-sex physical education classes. The study consisted of 3 girls and 3 boys 12-13 years old. One-on-one semi-structured interviews were conducted with each participant to gain an understanding of their perceptions of physical education (P.E.) classes that were coeducational and same-sex in nature. The results indicated that middle school students shared a variety of perceptions concerning class structure, regardless of gender. Two of the three girls preferred coeducation P.E. versus same-sex P.E., boys felt they tried harder in same-sex P.E., girls were more embarrassed to make mistakes in coeducational P.E. class, and boys felt they learned more physical education content in same-sex P.E. In conclusion, it seems logical for schools to offer physical education experiences that are both coeducational and same-sex. Students agreed that both coeducational and same-sex physical education had pros and cons, and the interests of students were not met in just one class structure. The ultimate goal of any school curriculum should be student learning in an environment that is safe and positive for the students.
Keywords
physical education,
Middle school,
qualitative research
Publication Date
Fall October 22, 2011
Citation Information
Scott M Ronspies. "Middle School Students' Perceptions of Coeducational and Same-Sex Physical Education"
Illinois Journal for Health, Physical Education, Recreation, and Dance
Vol. 68 (2011)
Available at: http://works.bepress.com/scott_ronspies/2/