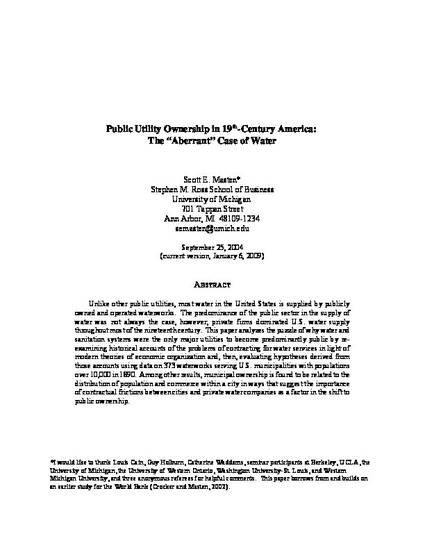 Unpublished Paper
Public Utility Ownership in 19th-Century America: The "Aberrant" Case of Water
American Law & Economics Association Annual Meetings (2009)
Abstract
Unlike other public utilities, most water in the United States is supplied by publicly owned and operated waterworks. The predominance of the public sector in the supply of water was not always the case, however; private firms dominated U.S. water supply throughout most of the nineteenth century. This paper analyzes the puzzle of why water and sanitation systems were the only major utilities to become predominantly public by re-examining historical accounts of the problems of contracting for water services in light of modern theories of economic organization and, then, evaluating hypotheses derived from those accounts using data on 373 waterworks serving U.S. municipalities with populations over 10,000 in 1890. Among other results, municipal ownership is found to be related to the distribution of population and commerce within a city in ways that suggest the importance of contractual frictions between cities and private water companies as a factor in the shift to public ownership.
Publication Date
January 6, 2009
Citation Information
Scott E. Masten. "Public Utility Ownership in 19th-Century America: The "Aberrant" Case of Water"
American Law & Economics Association Annual Meetings
(2009)
Available at: http://works.bepress.com/scott_masten/1/