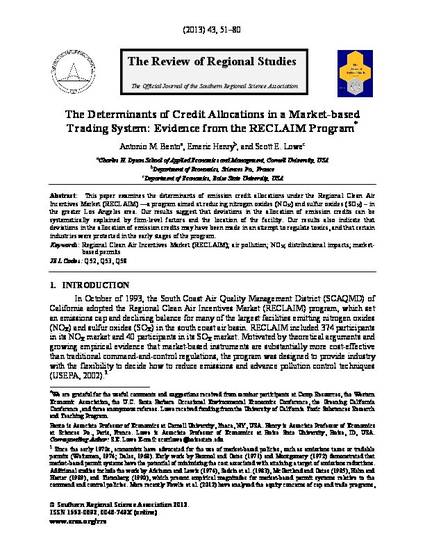 Article
The Determinants of Credit Allocations in a Market-Based Trading System: Evidence from the RECLAIM Program
The Review of Regional Studies
Publication Date
1-1-2013
Abstract
This paper examines the determinants of emission credit allocations under the Regional Clean Air Incentives Market (RECLAIM) - a program aimed at reducing nitrogen oxides (NOX) and sulfur oxides (SOX) - in the greater Los Angeles area. Our results suggest that deviations in the allocation of emission credits can be systematically explained by firm-level factors and the location of the facility. Our results also indicate that deviations in the allocation of emission credits may have been made in an attempt to regulate toxics, and that certain industries were protected in the early stages of the program.
Copyright Statement
This document was originally published by the Southern Regional Science Association in The Review of Regional Studies. This work is provided under a Creative Commons Attribution Non-Commercial License 4.0. Details regarding the use of this work can be found at: http://creativecommons.org/licenses/by-nc/4.0/.
Citation Information
Antonio M. Bento, Emeric Henry and Scott E. Lowe. "The Determinants of Credit Allocations in a Market-Based Trading System: Evidence from the RECLAIM Program"
The Review of Regional Studies
(2013)
Available at: http://works.bepress.com/scott_lowe/14/