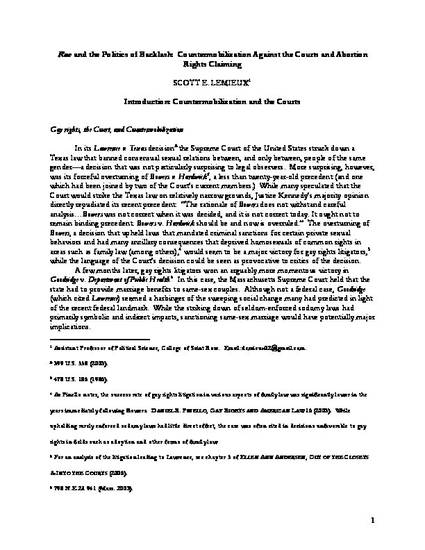 Article
Roe and the Politics of Backlash: Countermobilization Against the Courts and Abortion Rights Claiming
None (2009)
Abstract
Conventional wisdom holds that Roe v. Wade might have been a serious strategic error on the part of the pro-choice movement, as abortion law was being liberalized anyway and the Supreme Court's intervention produced a furious backlash. This paper argues that every element of this argument is erroneous. The drive for liberalization was stalled before 1973 by a very well-organized pro-life movement, and both the American and Canadian cases suggest that judicial opinions do not produce any more backlash than commensurate legislative policy changes.
Keywords
countermobilization,
backlash,
abortion,
Roe v. Wade,
R. v. Morentaler,
comparative law
Citation Information
Scott E Lemieux. "Roe and the Politics of Backlash: Countermobilization Against the Courts and Abortion Rights Claiming"
None
(2009)
Available at: http://works.bepress.com/scott_lemieux/2/