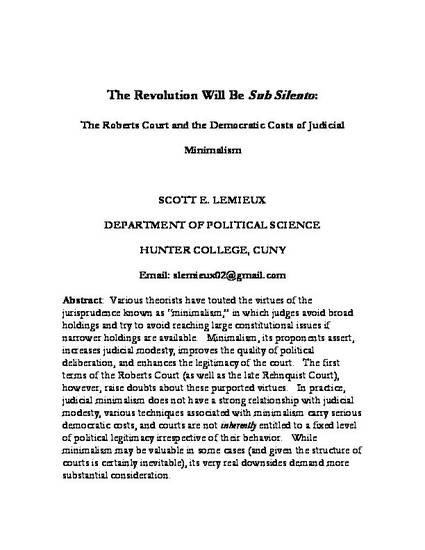 Unpublished Paper
The Revolution Will Be Sub Silento: The Roberts Court and the Democratic Costs of Judicial Minimalism
ExpressO (2009)
Abstract
Various theorists have touted the virtues of the jurisprudence known as "minimalism," in which judges avoid broad holdings and try to avoid reaching large constitutional issues if narrower holdings are available. Minimalism, its proponents assert, increases judicial modesty, improves the quality of political deliberation, and enhances the legitimacy of the court. The first terms of the Roberts Court (as well as the late Rehnquist Court), however, raise doubts about these purported virtues. In practice, judicial minimalism does not have a strong relationship with judicial modesty, various techniques associated with minimalism carry serious democratic costs, and courts are not inherently entitled to a fixed level of political legitimacy irrespective of their behavior. While minimalism may be valuable in some cases (and given the structure of courts is certainly inevitable), its very real downsides demand more substantial consideration.
Keywords
minimalism,
judicial review,
constitutional law,
democratic theory,
Roberts Court
Publication Date
March 26, 2009
Citation Information
Scott E Lemieux. "The Revolution Will Be Sub Silento: The Roberts Court and the Democratic Costs of Judicial Minimalism"
ExpressO
(2009)
Available at: http://works.bepress.com/scott_lemieux/1/