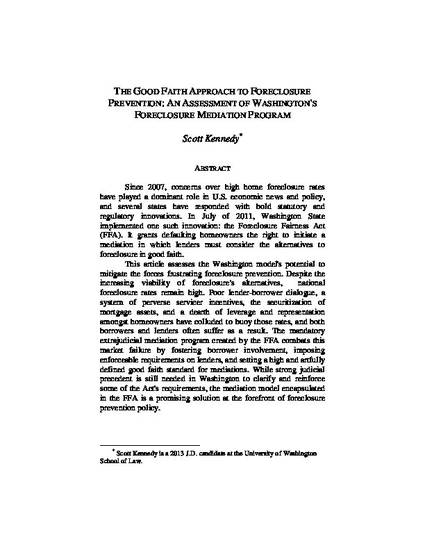 Unpublished Paper
The Good Faith Approach to Foreclosure Mediation: An Assessment of Washington's Foreclosure Mediation Program
ExpressO (2012)
Abstract
Since 2007, concerns over high home foreclosure rates have played a dominant role in U.S. economic news and policy, and several states have responded with bold statutory and regulatory innovations. In July of 2011, Washington State implemented one such innovation: the Foreclosure Fairness Act (FFA). It grants defaulting homeowners the right to initiate a mediation in which lenders must consider the alternatives to foreclosure in good faith. This article assesses the Washington model's potential to mitigate the forces frustrating foreclosure prevention. Despite the increasing viability of foreclosure's alternatives, national foreclosure rates remain high. Poor lender-borrower dialogue, a system of perverse servicer incentives, the securitization of mortgage assets, and a dearth of leverage and representation amongst homeowners have colluded to buoy those rates, and both borrowers and lenders often suffer as a result. The mandatory extrajudicial mediation program created by the FFA combats this market failure by fostering borrower involvement, imposing enforceable requirements on lenders, and setting a high and artfully defined good faith standard for mediations. While strong judicial precedent is still needed in Washington to clarify and reinforce some of the Act's requirements, the mediation model encapsulated in the FFA is a promising solution at the forefront of foreclosure prevention policy.
Publication Date
August 29, 2012
Citation Information
Scott P. Kennedy. "The Good Faith Approach to Foreclosure Mediation: An Assessment of Washington's Foreclosure Mediation Program"
ExpressO
(2012)
Available at: http://works.bepress.com/scott_kennedy/1/