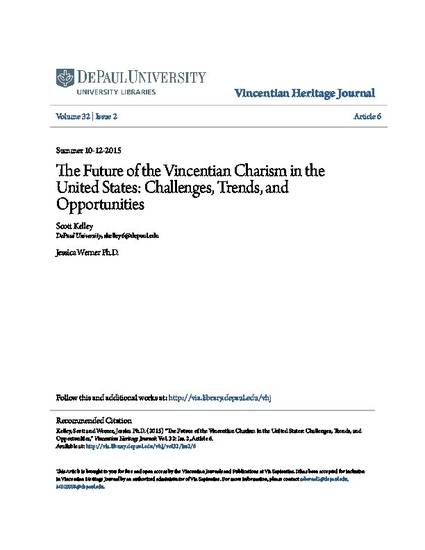 Article
The Future of the Vincentian Charism in the United States: Challenges, Trends, and Opportunities
Vincentian Heritage Journal (2015)
Abstract
With declining membership in many branches of the Vincentian Family looming in the background, a key question emerges: how will the Vincentian mission continue in the United States in the twenty-first century? In 2005, Rev. Edward R. Udovic, C.M., Senior Executive for University Mission at DePaul University, argued that "by 2023 the Vincentians may well have no physical presence, canonical sponsorship role, or governance role at DePaul University." His conclusion is based on careful observation of the historical membership trends in the Congregation of the Mission in the United States, going all the way back to their arrival in 1816. It is a trend line that steadily increased over decades until it reached a peak in 1965, and which has been on a steady decline ever since. The membership trends that Fr. Udovic described in 2005 not only pose a challenge to DePaul University, they will also continue to impact virtually every apostolate sponsored by the Vincentian Family in the United States. Despite noted trends of decreasing membership and a corresponding narrative of decline, there are also powerful signs of growth and rebirth, signs that should not be overlooked. The unaffiliated lay Vincentian experience may well be one of those signs of our times, pointing toward seeds of growth and renewal.
Keywords
Lay Vincentian,
Vincentian Family,
Vincentian spirituality
Publication Date
Summer 2015
Citation Information
Scott Kelley and Jessica Werner. "The Future of the Vincentian Charism in the United States: Challenges, Trends, and Opportunities"
Vincentian Heritage Journal
Vol. 32 Iss. 2 (2015)
Available at: http://works.bepress.com/scott_kelley/23/