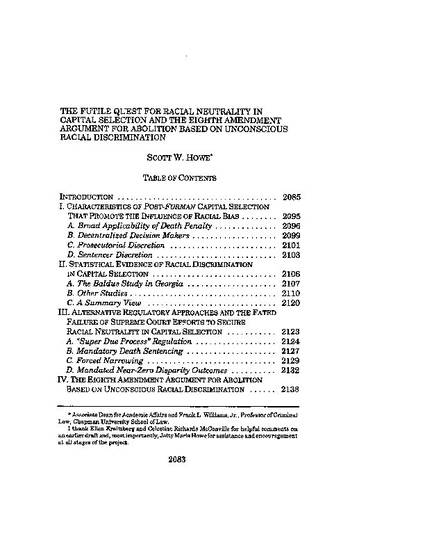 Article
The Futile Quest for Racial Neutrality in Capital Selection and the Eighth Amendment Argument for Abolition Based on Unconscious Racial Discrimination
William & Mary Law Review (2004)
Abstract
This article begins by discussing the characteristics of current capital-sentencing systems that make racial discrimination in capital selection uncontrollable. It also summarizes the social-science evidence that white-victim bias widely plagues capital selection. The article then develops the two central arguments suggested by its title. First, it provides a detailed explanation of why proposals for federal regulatory reform cannot succeed in achieving racial neutrality in capital selection. Second, it provides a theory to explain why unconscious racial discrimination in capital selection violates the Eighth Amendment and, given the futility of federal regulatory remedies, justifies abolition.
Keywords
Capital punishment,
capital sentencing,
death penalty
Citation Information
Scott W. Howe,
The Futile Quest for Racial Neutrality in Capital Selection and the Eighth Amendment Argument for Abolition Based on Unconscious Racial Discrimination
, 45
Wm. & Mary L. Rev.
2083 (2004). Available at: http://works.bepress.com/scott_howe/5