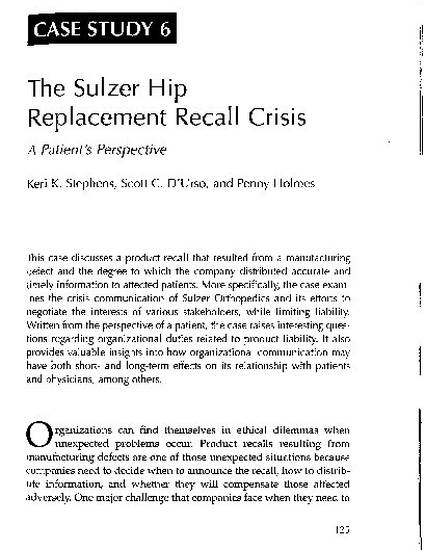 Contribution to Book
The Sulzer Hip Replacement Recall Crisis: A Patient's Perspective
Case Studies in Organizational Communication: Ethical Perspectives and Practices. Ed. Steve May. Thousand Oaks: Sage Publications, 2006
Document Type
Contribution to Book
Publication Date
1-1-2006
Publisher
SAGE Publications
Original Item ID
Shelves: HD30.3 .C37155 2006
Abstract
This case discusses a product recall that resulted from a manufacturing defect and the degree to which the company distributed accurate and timely information to affected patients. More specifically, the case examines the crisis communication of Sulzer Orthopedics and its efforts to negotiate the interests of various stakeholders, while limiting liability. Written from the perspective of a patient, the case raises interesting questions regarding organizational duties related to product liability. It also provides valuable insights into how organizational communication may have both short- and long-term effects on its relationship with patients and physicians, among others.
Citation Information
Keri Stephens, Scott D'Urso and Penny Holmes. "The Sulzer Hip Replacement Recall Crisis: A Patient's Perspective"
Case Studies in Organizational Communication: Ethical Perspectives and Practices. Ed. Steve May. Thousand Oaks: Sage Publications, 2006
(2006) ISSN: 0761929835
Available at: http://works.bepress.com/scott_durso/14/