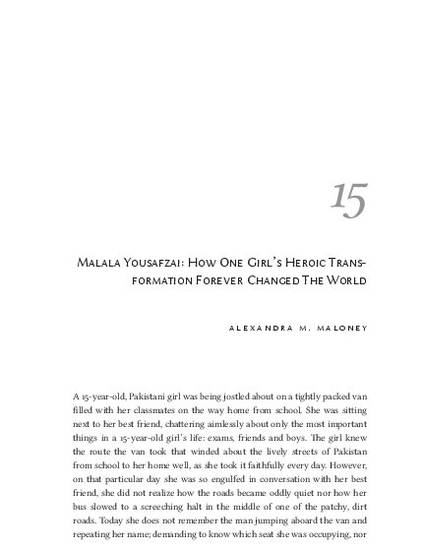 Contribution to Book
Malala Yousafzai: How One Girl's Heroic Transformation Forever Changed The World
Heroic Transformation: How Heroes Change Themselves and the World (2019)
Abstract
The purpose of this chapter is to offer an analysis of Malala Yousafzai's transformation, drawing from the literature of heroism science. In doing so, the chapter will explore elements of Malala's heroic traits, calling, suffering, and journey, with an emphasis on how these elements transformed her mentally and emotionally. This chapter will also discuss the implications of being a hero as a woman. The chapter concludes with an analysis of Malala's overall impact on women's rights and the feminist movement.
Keywords
Malala,
Malala Yousafzai,
Malala heroism
Citation Information
Alexandra M Maloney. "Malala Yousafzai: How One Girl's Heroic Transformation Forever Changed The World"
Heroic Transformation: How Heroes Change Themselves and the World
(2019)
Available at: http://works.bepress.com/scott_allison/98/