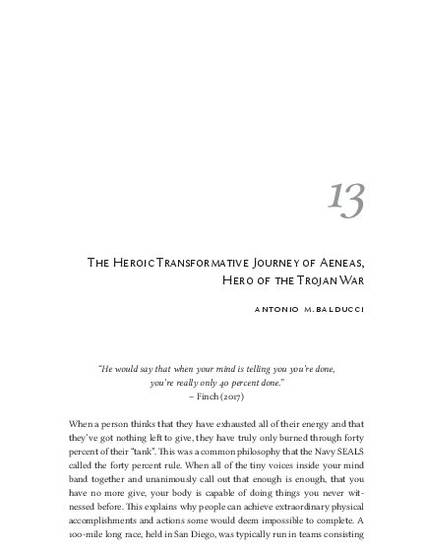 Contribution to Book
The Heroic Transformative Journey of Aeneas, Hero of the Tro􀀀an War
Heroic Transformation: How Heroes Change Themselves and the World (2019)
Abstract
Aeneas was the protagonist character in the epic story, The Aeneid, written by the ancient Roman poet Virgil. The storyline takes place in ancient times that scholars believe to be roughly 1250 B.C.E. Aeneas was widely known as a classic "mythical hero" of that era. Told from the point of view of Aeneas, the story captures all the graphic details of his life as a Trojan soldier. The city of Troy was overtaken by the Greeks, which forced Aeneas to flee and build a "new Troy". His journey to heroism begins with his departure from Troy.
Keywords
Aeneas,
Aeneas hero,
Aeneas hero's journey
Citation Information
Antonio M Balducci. "The Heroic Transformative Journey of Aeneas, Hero of the Tro􀀀an War"
Heroic Transformation: How Heroes Change Themselves and the World
(2019)
Available at: http://works.bepress.com/scott_allison/96/