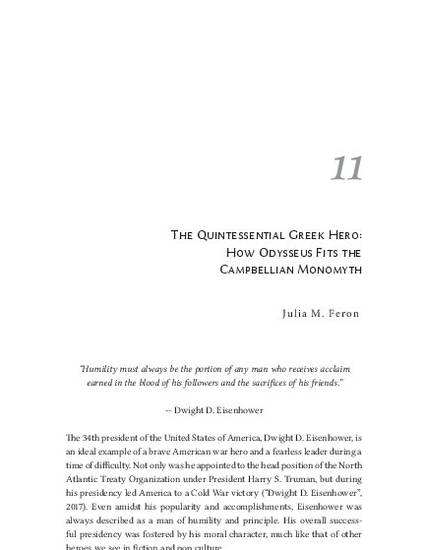 Contribution to Book
The Quintessential Greek Hero: How Odysseus Fits the Campbellian Monomyth
Heroic Transformation: How Heroes Change Themselves and the World (2019)
Abstract
Odysseus faces many challenges along his return home after the Trojan War and must put his heroic attributes to the test, all while undergoing a unique self-transformation in accordance with Joseph Campbell's (1949) monomyth. Odysseus specifically endures an "emotional transformation" involving his acquisition of humility, an essential component of the classic "hero" (Allison & Smith, 2015). Joseph Campbell's research on the traditional hero's journey closely aligns with Odysseus' story. The Odyssey can be broken down into Campbell's three stages of transformation in order to properly assess the characterization of Odysseus as an archetypal hero.
Keywords
Odysseus,
Odysseus hero,
Odysseus hero's journey
Citation Information
Julia M Feron. "The Quintessential Greek Hero: How Odysseus Fits the Campbellian Monomyth"
Heroic Transformation: How Heroes Change Themselves and the World
(2019)
Available at: http://works.bepress.com/scott_allison/94/