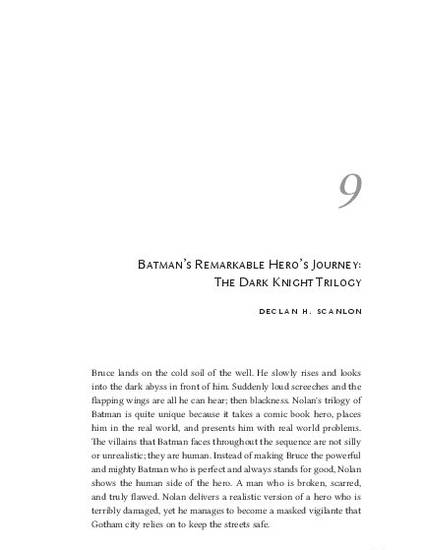 Contribution to Book
Batman's Remarkable Hero's Journey: The Dark Knight Trilogy
Heroic Transformation: How Heroes Change Themselves and the World (2019)
Abstract
The purpose of this chapter is to describe the journey and transformations that turn an ordinary man, Bruce Wayne, into a civil-hero (Franco, Blau & Zimbardo, 2011). Bruce takes three specific pathways to transformation: dependence to autonomy, egocentricity to sociocentricity, and stagnation to growth. Through his journey he experiences multiple transformations that are moral, intellectual, emotional, and physical in nature (Allison & Goethals, 2017; Goethals & Allison, 2014). With each pathway taken and transformation completed, Bruce becomes more than just a man; he becomes a legend. His journey has three main stages: departure, initiation, and return (Allison, Goethals & Kramer, 2017). With the completion of each phase in his expedition, Bruce grows further from ordinary and gets closer to achieving true heroism.
Keywords
Batman,
Bruce Wayne,
Gotham City hero
Citation Information
Declan H Scanlon. "Batman's Remarkable Hero's Journey: The Dark Knight Trilogy"
Heroic Transformation: How Heroes Change Themselves and the World
(2019)
Available at: http://works.bepress.com/scott_allison/92/