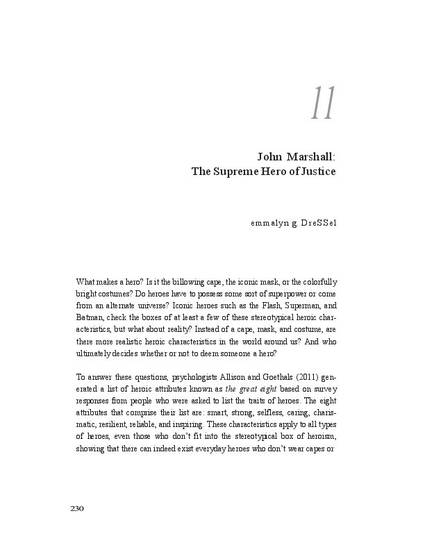 Contribution to Book
John Marshall: The supreme hero of justice
Heroes of Richmond: Four Centuries of Courage, Dignity, and Virtue (2018)
Abstract
The goal in this chapter is to uncover the true story of John Marshall by
focusing on his life story and dispositional characteristics that gave rise to
his heroism. This analysis will begin with a description of his heroic journey,
focusing on his childhood and on those who played a central role in his heroic
formation. Crucial points that led to his transformation of self and society
will also be described, highlighting the important characteristics prevalent
in his heroic transformations. Our analysis will then turn to a description his
avowed purpose in life, also showing how his sense of meaning and purpose
affected his heroic behavior and continues to affect us all to the present day.
Finally, we will conclude with an overview and summative analysis of John
Marshall's entire body of heroic work.
Keywords
John Marshall,
Richmond Hero,
supreme court justice
Citation Information
Emmalyn G. Dressel. "John Marshall: The supreme hero of justice"
Heroes of Richmond: Four Centuries of Courage, Dignity, and Virtue
(2018)
Available at: http://works.bepress.com/scott_allison/66/