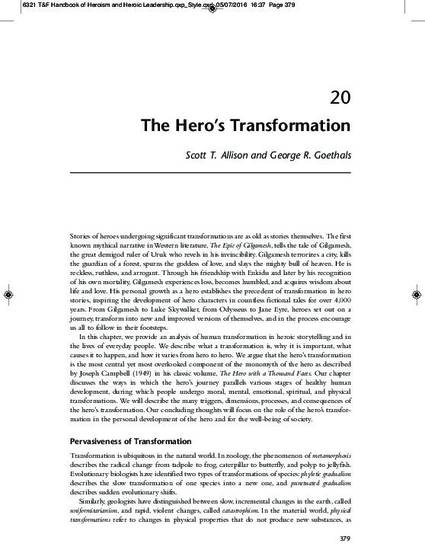 Contribution to Book
The hero's transformation
Handbook of Heroism and Heroic Leadership (2017)
Abstract
In this chapter, we provide an analysis of human transformation in heroic storytelling and in the lives of everyday people. We describe what a transformation is, why it is important, what causes it to happen, and how it varies from hero to hero. We argue that the hero's transformation is the most central yet most overlooked component of the monomyth of the hero as described by Joseph Campbell (1949) in his classic volume,
The Hero with a Thousand Faces
. Our chapter discusses the ways in which the hero's journey parallels various stages of healthy human development, during which people undergo moral, mental, emotional, spiritual, and physical transformations. We will describe the many triggers, dimensions, processes, and consequences of the hero's transformation. Our concluding thoughts will focus on the role of the hero's transformation in the personal development of the hero and for the well-being of society.
Keywords
hero,
heroes,
heroism,
transformation,
conversion,
awakening,
enlightenment
Editor
Scott T. Allison, George R. Goethals, Roderick M. Kramer
Citation Information
Allison, S. T., & Goethals, G. R. (2017). The hero's transformation. In S. T. Allison, G. R. Goethals, & R. M. Kramer (Eds.), Handbook of Heroism and Heroic Leadership. New York: Routledge.