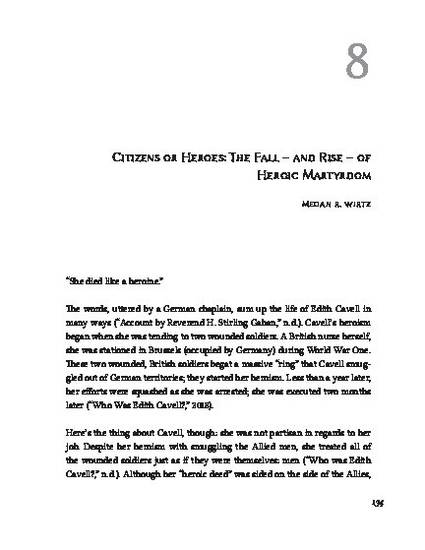 Contribution to Book
Citizens or Heroes: The Fall – and Rise – of Heroic Martyrdom
Core Concepts in Heroism Science (2021)
Abstract
This chapter examines two of the world's most popular LGBTQ martyrs, Alan Turing and Oscar Wilde.  Both were deemed heroes under one of society's greatest examples of cultural change: the LGBTQ movement. Previously, nearly everywhere across the globe repudiated the concept of homosexuality; no matter what the culture or religion, homosexuality was a sin and went against all norms. Both men wound up dead or destitute because they were accused of gross acts of indecency – that is, homosexuality – which was illegal when they were alive. However, both of them returned in the 21st century as role models and martyrs for a flourishing LGBTQ community that is no longer illegal.
Keywords
Alan Turing,
Oscar Wilde,
LGBTQ heroes
Citation Information
Megan R. Wirtz. "Citizens or Heroes: The Fall – and Rise – of Heroic Martyrdom"
Core Concepts in Heroism Science
(2021)
Available at: http://works.bepress.com/scott_allison/126/