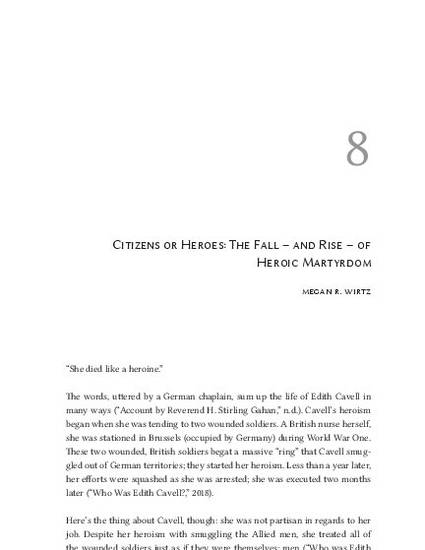 Article
Citizens or Heroes: The Fall – and Rise – of Heroic Martyrdom
Core Concepts in Heroism Science (2020)
Abstract
This essay will delve into the lives of two more exemplars of rising and falling martyrdom. This essay will take a detailed look at two of the world's most popular LGBTQ martyrs, Alan Turing and Oscar Wilde. Historically, cultures worldwide repudiated the concept of homosexuality; no matter what the culture or religion, homosexuality was a sin and violated norms. Turing and Wilde wound up dead or destitute because they were accused of gross acts of indecency – that is, homosexuality – which was illegal when they were alive. However, both of them returned in the 21st century as role models and martyrs for a flourishing LGBTQ community that is no longer illegal. This chapter explores their journeys from villain to heroic martyr.
Keywords
Turing,
Wilde,
martyr,
hero
Citation Information
Megan R Wirtz. "Citizens or Heroes: The Fall – and Rise – of Heroic Martyrdom"
Core Concepts in Heroism Science
(2020)
Available at: http://works.bepress.com/scott_allison/124/