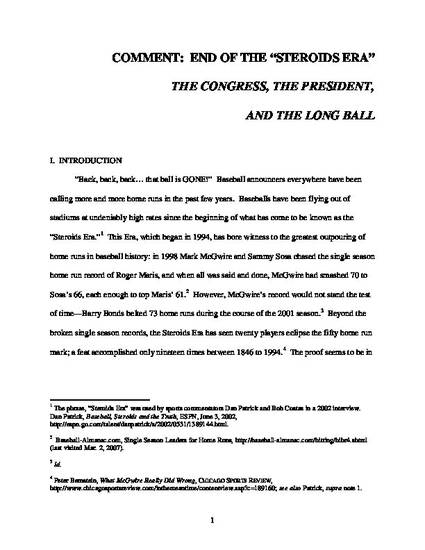 Unpublished Paper
END OF THE "STEROIDS ERA": THE CONGRESS, THE PRESIDENT, AND THE LONG BALL
ExpressO (2008)
Abstract
Home runs are sexy; they bring fans to the stadium and create excitement in then game of baseball. And baseballs have been flying out of stadiums at undeniably high rates since the beginning of what has come to be known as the "Steroids Era." Though it was unmistakable that steroid use in professional baseball was a national issue, it was not entirely clear why Congress, at a time when the country was fighting a war in Iraq, and attempting to solve Social Security, medical care and education issues, devoted so much of its time to a game. It was even less clear how Congress could to step into the fray and threaten a "takeover" of baseball steroid testing policies. My Comment is directed at answering the question plaguing Americans—can Congress rewrite the rules of baseball? It turns out that Congress does have the authority to "takeover" the rules of baseball. More interesting is the constitutional framework that provides the Congress with this ability, and "End of the Steroids Era" gives a detailed analysis of how the Constitution gives Congress the authority to amend the MLB rulebook.
Publication Date
February 27, 2008
Citation Information
Scott M Akamine. "END OF THE "STEROIDS ERA": THE CONGRESS, THE PRESIDENT, AND THE LONG BALL"
ExpressO
(2008)
Available at: http://works.bepress.com/scott_akamine/1/