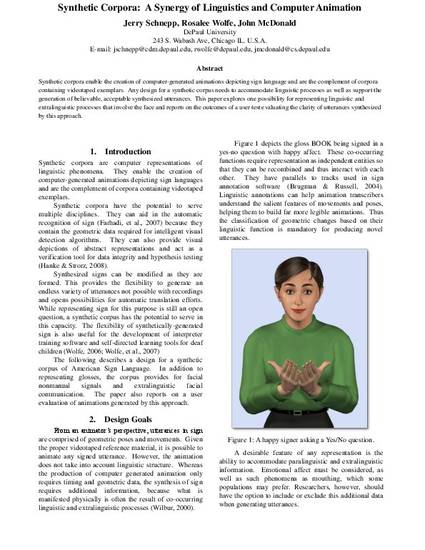 Presentation
Synthetic Corpora: A Synergy of Linguistics and Computer Animation
Fourth Workshop on the Representation and Processing of Sign Languages: Corpora and Sign Language Technologies LREC 2010
Document Type
Presentation
Abstract
Synthetic corpora enable the creation of computer-generated animations depicting sign language and are the complement of corpora containing videotaped exemplars. Any design for a synthetic corpus needs to accommodate linguistic processes as well as support the generation of believable, acceptable synthesized utterances. This paper explores one possibility for representing linguistic and extralinguistic processes that involve the face and reports on the outcomes of a user test evaluating the clarity of utterances synthesized by this approach.
Publication Date
5-23-2010
Citation Information
Jerry C Schnepp, Rosalee Wolfe and John McDonald. "Synthetic Corpora: A Synergy of Linguistics and Computer Animation"
Fourth Workshop on the Representation and Processing of Sign Languages: Corpora and Sign Language Technologies LREC 2010
(2010)
Available at: http://works.bepress.com/schnepp/8/