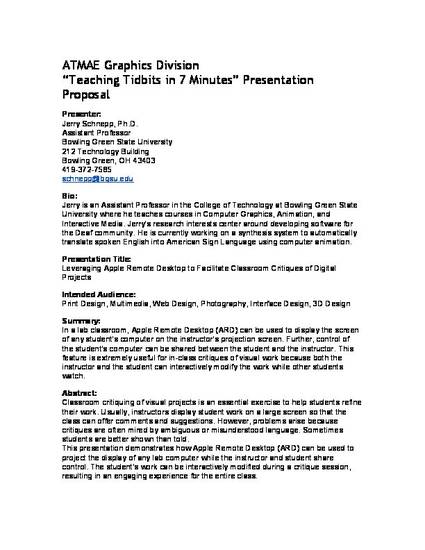 Presentation
Leveraging Apple Remote Desktop to Facilitate Classroom Critiques of Digital Projects
2013 Annual Conference of the Association of Technology Management and Applied Engineering
Document Type
Presentation
Abstract
Classroom critiquing of visual projects is an essential exercise to help students refine their work. Usually, instructors display student work on a large screen so that the class can offer comments and suggestions. However, problems arise because critiques are often mired by ambiguous or misunderstood language. Sometimes students are better shown than told. This presentation demonstrates how Apple Remote Desktop (ARD) can be used to project the display of any lab computer while the instructor and student share control. The student's work can be interactively modified during a critique session, resulting in an engaging experience for the entire class.
Publication Date
11-19-2013
Citation Information
Jerry C Schnepp. "Leveraging Apple Remote Desktop to Facilitate Classroom Critiques of Digital Projects"
2013 Annual Conference of the Association of Technology Management and Applied Engineering
(2013)
Available at: http://works.bepress.com/schnepp/17/