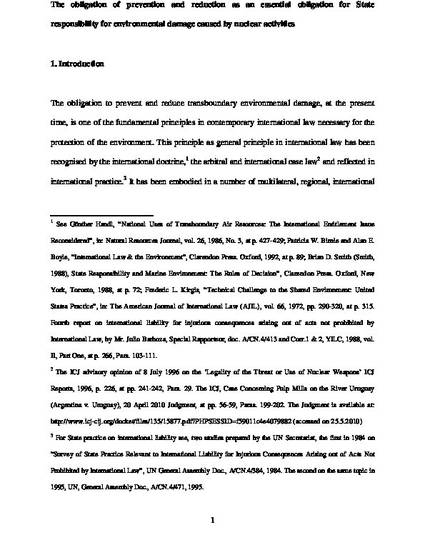 Article
The obligation of prevention and reduction as an essential obligation for State responsibility for environmental damage caused by nuclear activities
Denver Journal of International Law and Policy (2010)
Abstract
The aim of this article is to discuss the legal basis of the principle of prevention as customary and general principle of international law and its effectiveness to be the basis for State responsibility to prevent and reduce environmental nuclear damage. The principle of prevention is a fundamental principle in international law for the protection of the environment. According to international law, the State has the right to conduct nuclear activities for peaceful purposes, but this right is not absolute and restricted by the fact that it has not to cause damage to other States and the global environment. The Installation State has to take all preventive measures, precaution and due diligence to prevent and reduce transboundary environmental damage might be caused by a nuclear installation operated within its territory or under jurisdiction or control. This also requires close cooperation between the Installation State, the affected States and international organizations concerned.
Keywords
environment,
nuclear damage,
prevention,
nuclear activities,
state responsibility
Publication Date
Spring March 1, 2010
Citation Information
Sayed Mohamed Mohamed Zeidan. "The obligation of prevention and reduction as an essential obligation for State responsibility for environmental damage caused by nuclear activities"
Denver Journal of International Law and Policy
Vol. 38 Iss. 2 (2010)
Available at: http://works.bepress.com/sayed_zeidan/1/