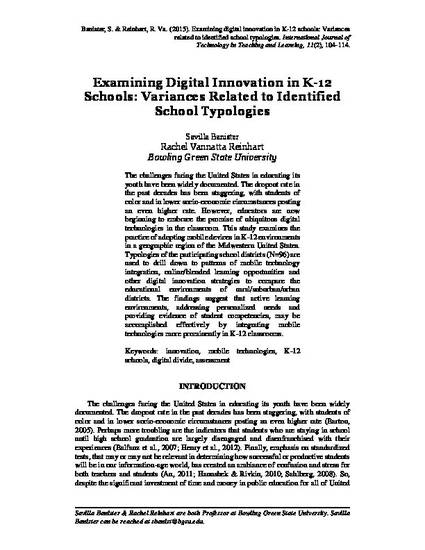 Article
Examining digital innovation in K-12 schools: Variances related to identified school typologies
International Journal of Technology in Teaching and Learning, (2015)
Abstract
The challenges facing the United States in educating its youth have been widely documented. The dropout rate in the past decades has been staggering, with students of color and in lower socio-economic circumstances posting an even higher rate. However, educators are now beginning to embrace the promise of ubiquitous digital technologies in the classroom. This study examines the practice of adopting mobile devices in K-12 environments in a geographic region of the Midwestern United States. Typologies of the participating school districts (N=96) are used to drill down to patterns of mobile technology integration, online/blended learning opportunities and other digital innovation strategies to compare the educational environments of rural/suburban/urban districts. The findings suggest that active learning environments, addressing personalized needs and providing evidence of student competencies, may be accomplished effectively by integrating mobile technologies more prominently in K-12 classrooms.
Keywords
innovation,
mobile technologies,
K-12 schools,
digital divide,
assessment
Publication Date
Winter November 30, 2015
Citation Information
Banister, S. & Reinhart, R. Va. (2015). Examining digital innovation in K-12 schools: Variances related to identified school typologies. International Journal of Technology in Teaching and Learning, 11(2), 104-114.
Creative Commons license
This work is licensed under a Creative Commons CC_BY International License.