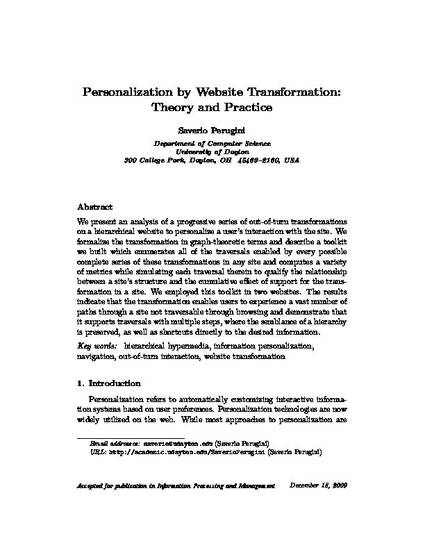 Article
Personalization by website transformation: Theory and practice
Information Processing and Management
Publication Date
5-1-2010
Abstract
We present an analysis of a progressive series of out-of-turn transformations on a hierarchical website to personalize a user's interaction with the site. We formalize the transformation in graph-theoretic terms and describe a toolkit we built that enumerates all of the traversals enabled by every possible complete series of these transformations in any site and computes a variety of metrics while simulating each traversal therein to qualify the relationship between a site's structure and the cumulative effect of support for the transformation in a site. We employed this toolkit in two websites. The results indicate that the transformation enables users to experience a vast number of paths through a site not traversable through browsing and demonstrate that it supports traversals with multiple steps, where the semblance of a hierarchy is preserved, as well as shortcuts directly to the desired information.
Document Version
Postprint
Copyright
Copyright © 2010, Elsevier
Place of Publication
Tarrytown, NY
Keywords
hierarchical hypermedia,
information personalization,
navigation,
out-of-turn interaction,
website transformation
Citation Information
Saverio Perugini. "Personalization by website transformation: Theory and practice"
Information Processing and Management
Vol. 46 Iss. 3 (2010)
Available at: http://works.bepress.com/saverio_perugini/2/