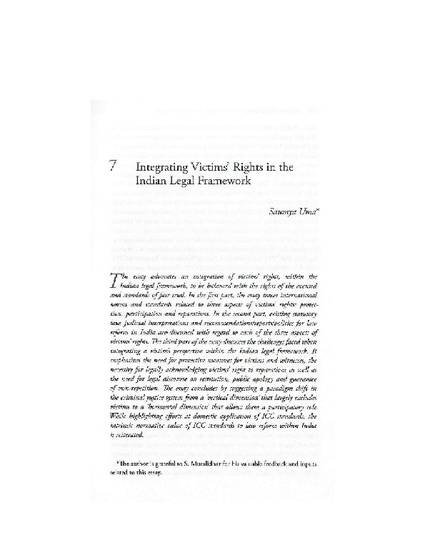 Contribution to Book
Integrating Victims' Rights in the Indian Legal Framework
Pursuing Elusive Justice: Mass Crimes in India and the Relevance of International Standards (2013)
Abstract
The article advocates an integration of victims' rights within the Indian legal framework, to be balanced with the rights of the accused and standards of fair trial.
In the first part, the article discusses international norms and standards related to three aspects of victims' rights: protection, participation and reparations.
In the second part, the article discusses existing statutory law, judicial interpretations and recommendations / reports / policies for law reform in India, with regard to each of the three aspects of victims' rights.
The third part of the article discusses the challenges faced when integrating a victims' perspective within the Indian legal framework. It emphasizes the need for protective measures for victims and witnesses, the necessity for legally acknowledging the victim's right to reparations as well as the need for legal discourse on restitution, public apology and guarantee of non-repetition.
The article concludes by suggesting a paradigm shift in the criminal justice process from a 'vertical dimension' that largely excludes victims to a 'horizontal dimension' that allows them a participatory role in processes of justice and accountability. While highlighting efforts at domestic application of the standards set by the International Criminal Court (ICC), the intrinsic normative value of ICC standards to law reform within India is reiterated.
Keywords
victims' rights,
Indian law,
victim witness protection,
reparations,
victim participation,
justice,
accountability
Editor
Vahida Nainar & Saumya Uma
Publisher
Oxford University Press
ISBN
13:978-0-19-807999-6
Citation Information
Saumya Uma. "Integrating Victims' Rights in the Indian Legal Framework" New Delhi
Pursuing Elusive Justice: Mass Crimes in India and the Relevance of International Standards
(2013)
Available at: http://works.bepress.com/saumyauma/44/