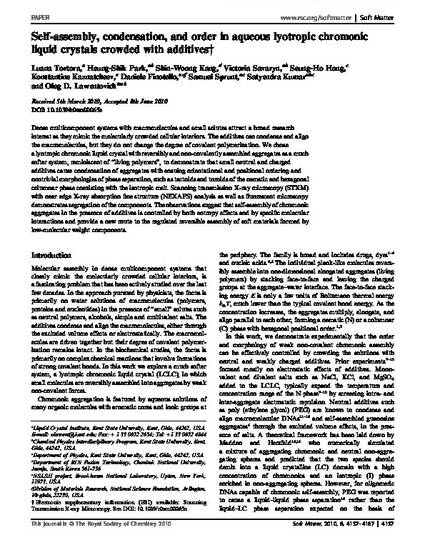 Article
Self-Assembly, Condensation, and Order in Aqueous Lyotropic Chromonic Liquid Crystals Crowded With Additives
Physics Publications (2010)
Abstract
Dense multicomponent systems with macromolecules and small solutes attract a broad research interest as they mimic the molecularly crowded cellular interiors. The additives can condense and align the macromolecules, but they do not change the degree of covalentpolymerization. We chose a lyotropic chromonic liquid crystal with reversibly and non-covalently assembled aggregates as a much softer system, reminiscent of "living polymers", to demonstrate that small neutral and charged additives cause condensation of aggregates with ensuing orientational and positional ordering and nontrivial morphologies of phase separation, such as tactoids and toroids of the nematic and hexagonal columnar phase coexisting with the isotropic melt. Scanning transmission X-ray microscopy (STXM) with near edge X-ray absorption fine structure (NEXAFS) analysis as well as fluorescent microscopy demonstrates segregation of the components. The observations suggest that self-assembly of chromonic aggregates in the presence of additives is controlled by both entropy effects and by specific molecular interactions and provide a new route to the regulated reversible assembly of soft materials formed by low-molecular weight components.
Keywords
Disodium Cromoglycate,
Water Mesophases,
Light Scattering,
Dna,
Behavior,
Cromolyn,
Phases,
State,
Birefringence,
Helices
Citation Information
Luana Tortora, Heung-Shik Park, Shin-Woong Kang, Victoria Savaryn, et al.. "Self-Assembly, Condensation, and Order in Aqueous Lyotropic Chromonic Liquid Crystals Crowded With Additives"
Physics Publications
Vol. 6 Iss. 17 (2010)
Available at: http://works.bepress.com/satyendra_kumar/55/